AShop V New Feature Overview - Version 5.1
Below is an overview of major changes in AShop,
which were added from version 5.0 to version 5.1
Previous Version AShop overviews

Redesigned Administration Panel
The administration panel has been given a new look that is more up to date. The left side menu has been replaced with a horisontal menu bar at the top of the page with drop down menus. All text in the administration panel can now also be changed through language modules, similar to those of the shopping cart.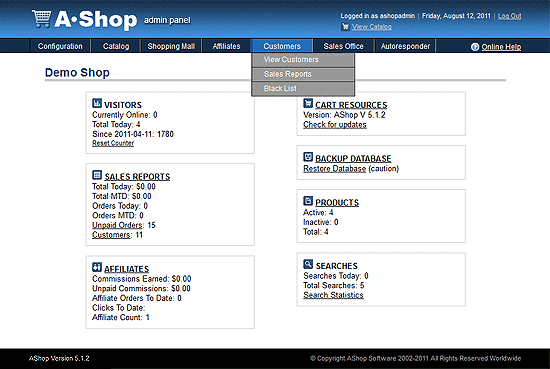 Preview video clips directly in the product catalog
The sound/music preview playback has now been extended to also allow video playback of preview files directly in the catalog. To use this, the preview file for a product must be in flv (Flash video) format or mp4 format. These filetypes will be detected by the shopping cart and will be shown through a video player rather than downloadable.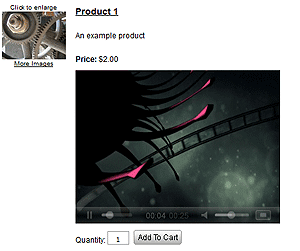 Standard auctions
The penny auctions feature that was added in 5.0 has been extended to also allow a standard type of auction, which typically has a longer timer and doesn't reset the timer each time someone places a bid. When an auction has been won, the winner is automatically notified by email and receives an emailed invoice with a link to pay. A customer does not need to buy a set of bids, like they do for the penny auctions, they only need to be registered and logged in to be able to place a bid on a standard auction.
Combining the auction feature with the Shopping Mall basically lets you run an auction site similar to eBay, where sellers can sign up to add their own auctions.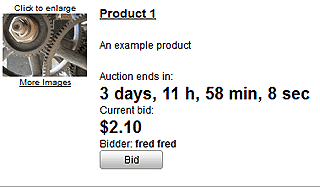 Multi-tier Affiliate Tracking
The two-tier tracking has been enhanced to allow for any number of tiers the shop owner prefers. This can turn AShop into a multi level marketing tool, where affiliates can earn commissions by recruiting new affiliates, multiple levels deep. Affiliates can also be automatically upgraded to a higher commission after they have referred a specified number of sales and the shop owner can choose to share customer contact information with affiliates as an incentive for referring them to the site.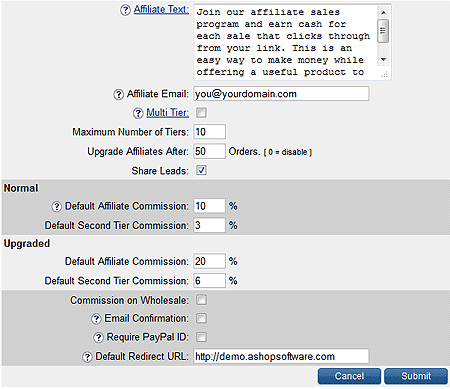 Enhanced Affiliate Features, Page Replication
The affiliate area, where affiliates can login to see their statistics or get their link codes, has been greatly enhanced since previous versions. It now has its own messaging system, which affiliates can use to contact their downline (affiliates they have recruited) or sponsor (the affiliate who recruited them). The link codes can be organized into categories to make it easier to find the right type of code. If the shop owner has activated leads sharing, the affiliate can get contact information for the customers they have referred, for example to sell other products or services to them. A detailed order history with commission payout information is available to the affiliate.
Besides the regular banner or text link codes, there is now also a page replication system, which lets the shop owner create personalized sales pages or even entire websites where parts of the content is automatically replaced with the affiliate's information. The shopping cart pages can also be used together with this feature to, for example, show the referring affiliate's name or link to their website when a customer arrives through their affiliate links. The shop owner can specify any number of custom fields to use with this feature, for example: the affiliate's Facebook profile, MySpace page or Twitter.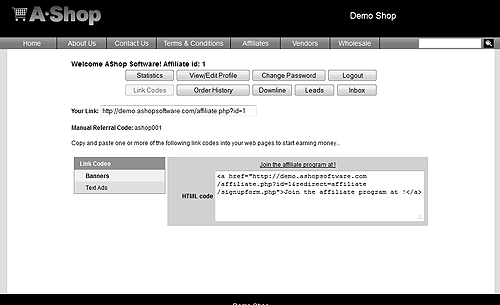 Dynamic Product Details Pages with Customer Reviews
The old generated static html product details pages have been replaced with dynamic pages with tabs for customer reviews and social networking features. These are still search engine friendly by using rewrite rules which make them appear as static html pages.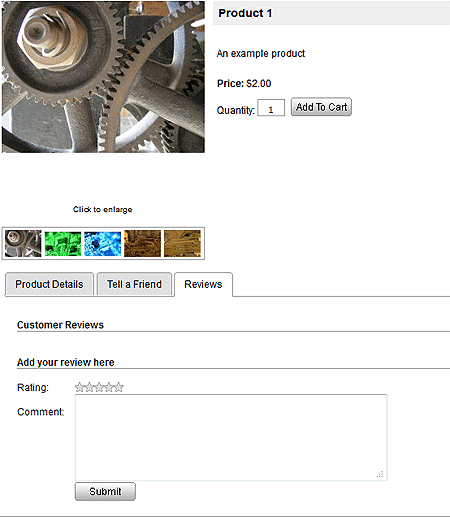 For a complete list of new features and bug fixes, see:
AShop Version Release Notes (text notes going back a few versions)
5.0.0 Apr 2009
4.8.0 Jan 2008
4.7.0 Nov 2007
4.6.0 Apr 2007
4.5.1 Nov 2006
4.4.0 Aug 2006
4.3.1 Feb 2006
4.3.0 Jan 2006
4.2,0 Nov 2005
4.1.2 Sept 2005
4,0.0 April 2005