Software Installation Service
Save time. Save money. Avoid frustration. Get it right the first time.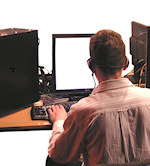 We have installed our programs hundreds of times on many different types of servers for a plethora of business types. The installation is not complicated for webmasters who are used to working around servers, but it may be challenging for newbies.
We can usually have the program running in the time that it takes for an inexperienced person to read and understand the instructions. If there is any trouble with our installation for any reason including server configuration issues, we will resolve the trouble or refund the installation fee.
We provide technical support and assistance to get the shop up and running. Most of the setup is done once and then the shop can be managed through an easy to use browser administration panel.
Software Installation Service
Installation & Setup of AShop V $50.
Installation of upgrade or update $50.
To provide us with the login details we need to be able to perform the installation, please complete our technical service request form. There is an option to add service fees to the shopping cart and to check out after the tech service form is submitted.