Quotes, Invoices & Orders
Orders are saved in AShop V in two ways. Customers order online through the shopping cart and sales operators enter orders through the Sales Office.

Each order in the Sales Office begins as a quote. The quote can be saved, printed, emailed as a quote, converted to a bill, or converted to a paid order. When a quote is saved, it can later be looked up and converted into a bill or a paid order. At each step of the process, related customer and vendor activity is linked and reported so that it is easy to keep track of customers and orders.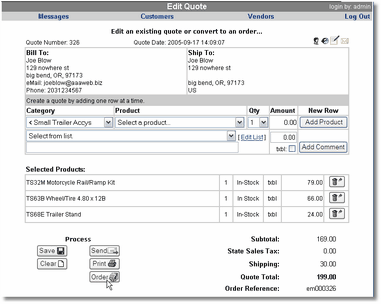 When a bill is created, an invoice is sent. The invoice includes a link to pay the bill. Until paid, bills appear as unpaid orders in sales reports.
New paid orders that contain vendor related products will appear in the open orders report. A purchase order can be automatically generated based upon products in the original order or purchase orders can be edited and created as needed to fulfill each order.