Customers & Messaging
Customer information can be accessed from a customer list or from sales reports. Sales reports can be selected for date ranges, filtered, sorted and ordered in various ways.
Messages can be sent to specified customers or to all customers, or to only customers who have ordered specific products. With extended functionality of third-party software or services such as Autoresponder-Service.com or AutoResponse Plus, customer email addresses can be saved in mail groups for manual or automatic follow-up mailings based upon products purchased. Convenient short cut icons link to each customer's profile and order history.

Customers and Messaging Help Topic


Manage Sales Help Topic

Send Update Messaging
Messages and downloadable product updates can be sent to customers who have purchased specific products within specified time periods.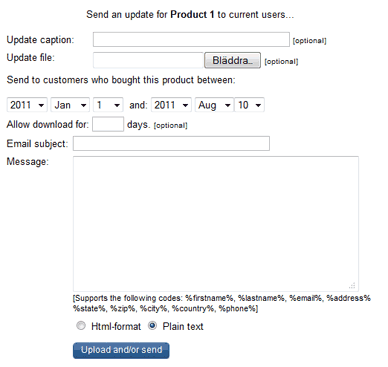 ---