Shopping Cart Certified by PayPal

The AShop shopping cart software has been tested by PayPal engineers and is certified for use with Express Checkout and Web Site Payments Pro. This shopping cart solution complies with PayPal's strict standards for third party shopping cart solutions. The shopping cart software also still supports the original IPN or Instant Payments method of payment.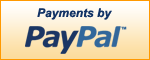 Express Checkout and Web Site Payments Pro require a few steps get set up and then the payment options are easy to use. Here is a brief overview of the process. Complete detailed installation and setup instructions are in the AShop online help.
1. Sign up for a PayPal Express Checkout and Web Payments Pro account.
2. Install PayPal SDK software on your server. Some web hosting companies may have the SDK software centrally installed on the server. Ask your hosting service.
3. Select the payment options in the AShop admin panel and enter the merchant ID for your PayPal Pro account.
4. Go through the PayPal sandbox to test before going live.